COVID DISINFECTING SERVICES
Cleaning has been deemed an 'essential service' by the Victorian Government. As such Combined Facilities Group is still operating to provide all commercial cleaning services in Dandenong and Melbourne as normal while operating within the prescribed 3 step framework for a COVIDSafe Australia.
We understand the need for having a completely sterile and germ free environment to work in this era, which is why we have provided comprehensive COVID Cleaning Services in Melbourne for offices and commercial spaces.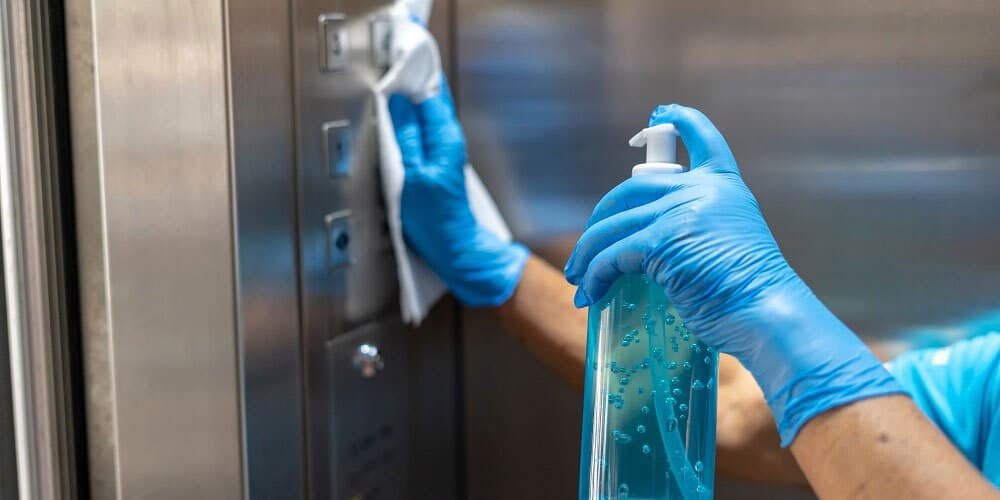 These cleaning services include Commercial Cleaning, General Office and Warehouse cleaning and Spring Clean services. Please note that since our cleaners do not have the requisite training or certification to perform terminal cleaning services, we are unable to offer cleaning services for offices or homes where there has been a confirmed case of COVID-19. We can guarantee that our disinfectant cleaning services are thoroughly appraised and are more than sufficient to take care of providing a COVID-Safe environment. Our COVID disinfecting services are focused on providing the safest possible clean, not just for our cleaners, but also for the people who will be inhabiting the premises after the clean has been conducted.
Considering the evolving situation, we are consistently updating our precautionary protocols to reflect Government's most up to date restrictions and advice. This information contained here provides a summary of the measures and protocols we have put in place to keep both our cleaners and customers safe during the pandemic. Please read the information on this page about how Combined Facilities Group is responding to keep both our cleaners and customers safe during the pandemic. Our precautionary processes have enabled us to provide our disinfectant cleaning services without a hitch. We understand that this is a particularly risky time to provide cleaning services, however, we are committed to providing COVID disinfecting services to any commercial spaces within the greater Melbourne area
How Are We as Cleaners Keeping You Safe?
PPE: we require all our cleaners to wear personal protective equipment including gloves, face masks and goggles to every booking and practice frequent hand hygiene.
Personal belongings: we ask that cleaners leave their personal belongings (bags, jackets) inside the front door.
Distancing: we ask that our cleaners practice appropriate social distancing while in contact with customers and speak with customers before the service to devise a plan to ensure that a 1.5 metre distance is maintained between the cleaner and customer for the duration of the service.
Cleaner well-being: we regularly communicate with our cleaners regarding their health and have also stressed the importance of staying home and seeking medical advice if they feel unwell. You can be assured that we are committed to providing a thorough and deep disinfection of any commercial space, while also ensuring that the safety of our workers is paramount. This is why when it comes to efficient COVID cleaning services in Melbourne, you cannot go wrong with Combined Facilities Group. Our dedication to enable a COVID safe Australia has allowed us to provide COVID disinfecting services at highly affordable rates despite the risk being taken by our cleaners.